The full service agreement with an undisclosed customer represents the first anchor deal of the Company in the competitive Polish photovoltaic (PV) market.
The Company aims to grow its portfolio of O&M contracts in Poland to 100 MWp by the end of 2022.
In addition, the Company has obtained the ISO 9001:2015 certifcation, the world's most recognised Quality Management System (QMS) standard.
Amsterdam/Warsaw – 23 June 2022 – Photon Energy N.V. (WSE&PSE: PEN, FSX: A1T9KW) ('Photon Energy Group' or the 'Company') announces that its Polish solar PV operations and maintenance (O&M) services subsidiary Photon Energy Operations PL Sp. z o.o. signed a full service O&M agreement with its first Polish anchor customer for two PV power plants with a total installed capacity of 48 MWp.
The deal puts the Company well on track to reach its 2022 year-end target of 100 MWp in O&M contracts in the largest PV market in the Central and Eastern European (CEE) region as part of the Company's long-term goal to grow its global O&M portfolio to 1.0 GWp by year-end 2024. Currently, Photon Energy's Operations & Maintenance Division services a total of 328 MWp of installed PV capacity in its key CEE markets and Australia.
'Winning our first anchor customer in the highly competitive Polish market represents a major milestone in our strategy to become the partner of choice and leader in the fast-growing PV power plant O&M market in the CEE region,' said Georg Hotar, CEO of Photon Energy Group. 'Across the projected growth of our proprietary portfolio and a growing pool of domestic and international PV investors, we are on track to reach our goal of providing O&M services to 1,000 MWp of installed PV generation capacity by year-end 2024.'
In addition to this major deal, Photon Energy Operations PL Sp. z o.o. also successfully completed its ISO 9001:2015 certification process in the Polish market, underlining the Group's determination and a culture of continuous improvement based on a standardised quality management system across its CEE markets, i.e. the Czech Republic, Hungary, Poland, Romania and Slovakia. The Company's O&M Division services the Group's own portfolio of power plants as well as PV assets of a growing number of both local and international investors in the CEE region.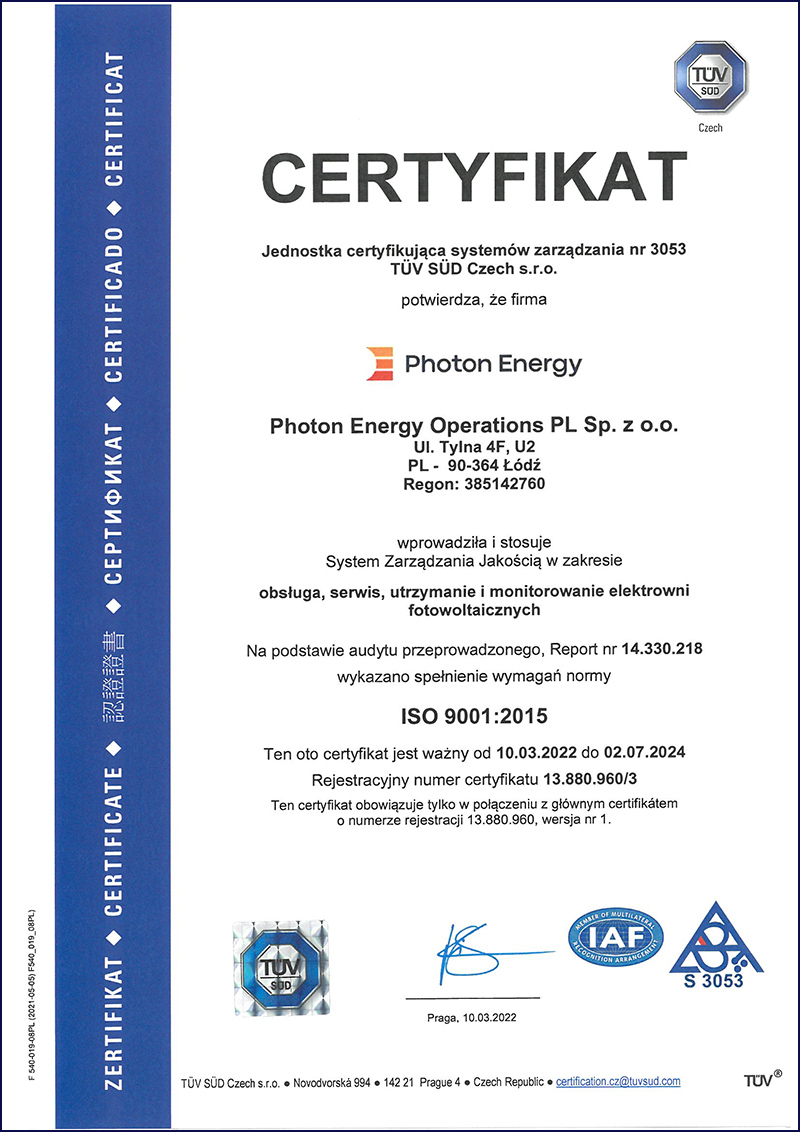 About Photon Energy Group
Photon Energy Group delivers solar energy and clean water solutions around the world. Its solar power services are provided by Photon Energy. Since its foundation in 2008, Photon Energy has built and commissioned solar power plants with a combined capacity of over 100 MWp and has power plants with a combined capacity of 91.9 MWp in its proprietary portfolio. It is currently developing projects with a combined capacity of 791.2 MWp in Australia, Hungary, Poland and Romania and provides operations and maintenance services for over 320 MWp worldwide. The group's second major business line, Photon Water, provides clean water solutions including treatment and remediation services, as well as the development and management of wells and other water resources. Photon Energy N.V., the holding company for Photon Energy Group, is listed on the Warsaw, Prague and Frankfurt Stock Exchanges. The company is headquartered in Amsterdam, with offices across Europe and in Australia.

Media Contact
Martin Kysly
Head of Marketing and Corporate Communications
Tel. +420 774 810 670
E-mail: martin.kysly@photonenergy.com
Investor Relations Contact
Emeline Parry
Investor Relations & Sustainability Manager
Tel. +420 702 206 574
E-mail: emeline.parry@photonenergy.com